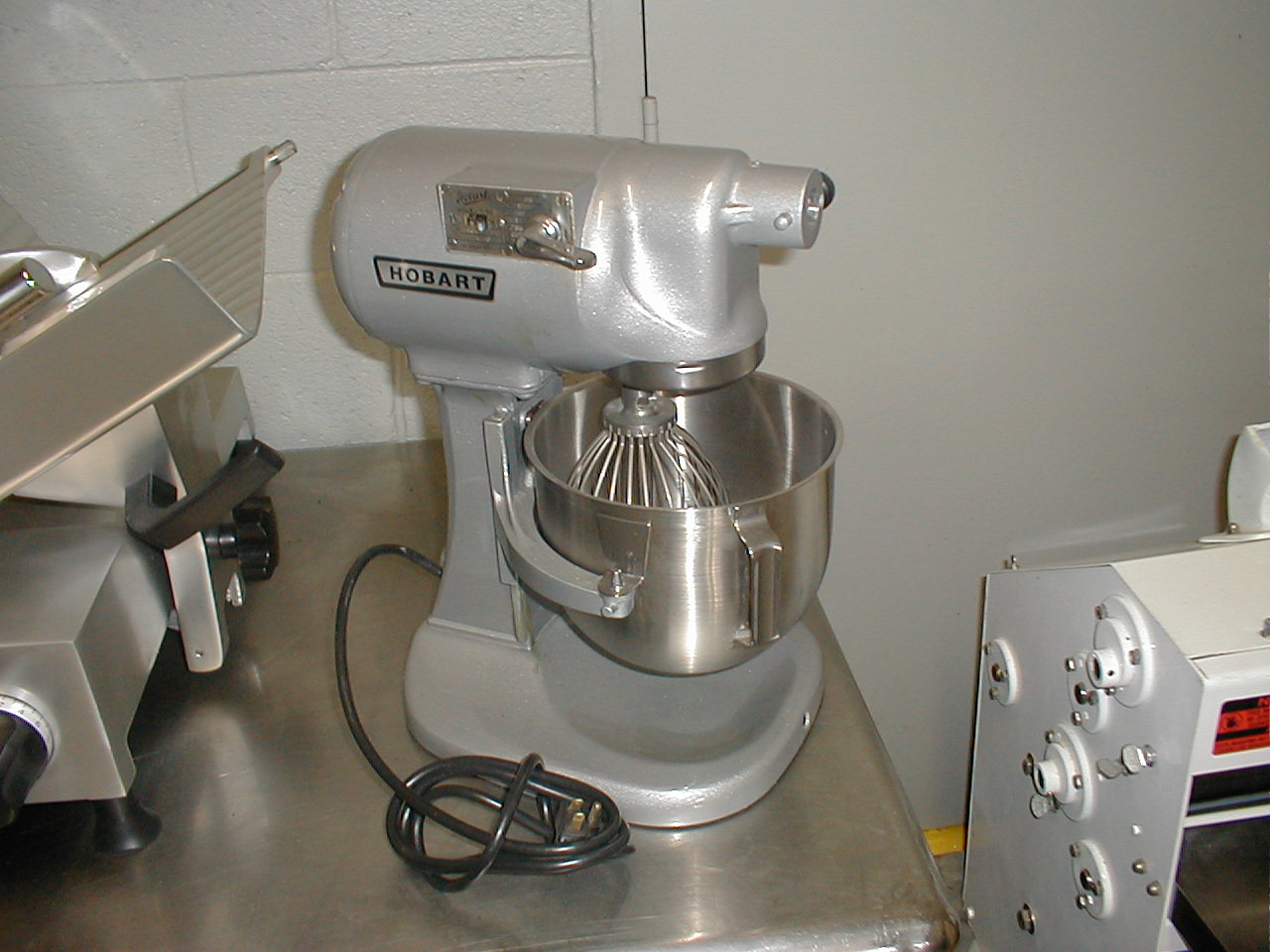 Hobart N-50 Mixer Refurbished
Hobart is a registered trademark of an Illinois Tool Works Company. All parts shown are provided by Jomarc as after market replacement parts for Hobart equipment, The above parts are sold by Jomarc as replacement parts for Hobart equipment. Jomarc is not affiliated with Hobart or Illinois Tool Works Company.
Hobart N-50 mixer refurbished to factory condition. Our Refurbished units are guaranteed with a warranty. All of our refurbished Hobart Mixers are in pristine condition.
Listed by: Underwriters Laboratories, Inc. and NSF International. Certified by the Baking Industry Sanitation Standard Committee
Freight charges to be added to price
Price: $1349
STANDARD FEATURES, SOLUTIONS & BENEFITS
Hybrid Powder Coat finish available in Hobart Gray
Large, Easy-To-Reach Controls
Manual Bowl Lift
#10 Taper Attachment Hub
Stainless Steel Bowl Guard
5-Quart Stainless Steel Bowl, "D" Wire Whip, Cord and Plug
1⁄6 H.P.  Hobart Designed Fixed Speed  Motor
Durability
Heavy-duty to meet the most demanding operations
15-Minute Electric Timer
Convenience, Ease of Use, Consistency
Supports recipe mixing times

Simplifies operation

Provides accurage results and eliminates overmixing

Three Fixed Speeds
Flexibility, Reliability, Consistency
For incorporating, blending, mixing ingredients

Supports consistent results and thorough mixing

Bowl Guard
Protection
Safety interlock prevents operation when front portion of guard is out of position
Gear Driven Transmission
Durability, Flexibility
Ensures consistent performance and minimum downtime with positive drive under heavy loads
Hobart Agitators
Durability, Flexibility
Hobart manufactured accessories are designed for long-term usage under heavy-duty conditions
Large array of attachments provide multiple uses for recipe and product processing
Specifications
Motor
1⁄2 H.P., Hobart designed, permanently lubricated ball bearings, splash-proof, fan cooled. Single-phase is capacitor-start, induction-run type.
2.9 Amps
100-120V
Single Phase
1.4 Amps
230V
Electrical
100-120/60/1 - U L Listed for residential and commercial use. Also available in 100/50/1, 230/50/1, 220/60/1 and 230/60/1 - not submitted for U L Listing.
Controls
Single pole, toggle-type, mechanically interlocked with transmission shift handle. Includes automatic circuit breaker with manual reset switch.
Transmission
Three speed selection transmission. Convenient shift handle mounted near "OFF" and "ON" switch.